Good afternoon, peeps! It's Friday, so it looks like I'm posting another tournament guest post. This time our sidekick advocate is Summer Day. She's advocating Laurie, from Little Women as her favorite supporting character, so I'll let her take it away and you can all decide if Laurie is worthy of your admiration!
Authored: Pride and Princesses. You can purchase her book here!
Favorite Sidekick:
LAURIE from LITTLE WOMEN by Louisa May Alcott
For those of you who aren't familiar with Laurie...
Okay readers, for all intents and purposes Laurie is actually a major character in Little Women, disguised in parts of the novel as a sidekick! The narrative is largely driven by the March sisters. It is through their eyes that Laurie (a gorgeous, intelligent, rich, handsome, loving and kind next door neighbour) enters the picture. Laurie struggles with his grandfather's 'plans' for his future just as Jo struggles with society's expectations of a traditional 'little woman!' Both

Jo and Laurie are outspoken and kind and many readers (including this one) always felt they were 'made for each other.' (Just like Damon and Elena in The Vampire Diaries…well, not quite, but you know what I mean…)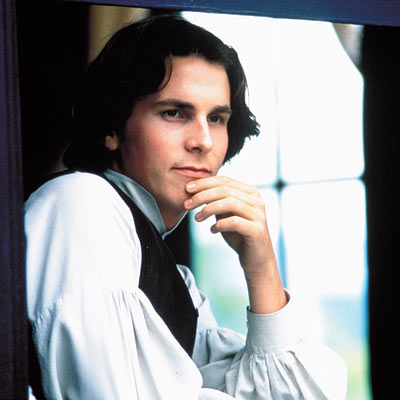 Why Readers Should Love and Appreciate Laurie
He has many of the good qualities of a great boyfriend & amazing husband. Plus, he's kind of heroic – saving Amy, allowing the sisters to make him part of their 'secret society' – at least in the film (!)

After confessing his love to Jo (and being rejected by her) he goes off to Europe, meets Amy (Jo's youngest sister) and makes a commitment to her! Even if he didn't end up with his first love, Jo, instead of sulking forever, he eventually becomes the brother the other March sisters always wanted.
Why I Love Laurie and Why You Should Too!
Okay, at this point I have to say Christian Bale in Gillian Armstrong's film version (with Winona Ryder as Jo and Kirsten Dunst as young Amy) is, to me, the definitive Laurie. It is hard to separate the written word character with Bale's charming portrayal. The reason I love this character is that he portrays many of the characteristics that make a good boyfriend or husband. He has warmth, humour, loyalty, protectiveness (remember when he saves Amy after she goes skating at the frozen lake?) but most of all kindness. Laurie also grows in maturity throughout the novel and even though he marries Amy, thus becoming part of the March family, he always remains Jo's 'dear friend'. That said, this reader is sure in another universe, Jo and Laurie were made for each other…I guess the planets needed to align!
Little Women was originally published in two parts. In between the publication of Part One and Part Two the author (Alcott) received letters from readers requesting that Jo marry Laurie. Alcott responded by having Laurie and Jo marry… just not each other!
Laurie was played by Christian Bale in the 1994 movie adaptation of 'Little Women.' Joe was portrayed by Winona Ryder.