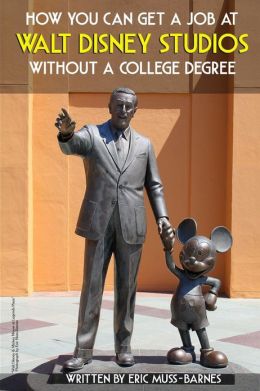 Eric Muss-Barnes likes Disney, and he's not alone. I love Disney. Disney movies, music, and of course, Disneyland. A lot of people dream about working for the Walt Disney Studios, and Eric is one of those people who made that dream a reality. He penned a book about the six years he spent in Disney's employment, and inside he tells how anybody can snag a job at the most magical movie-making studio in the world...without a college degree! I was very intrigued by this premise, so Eric agreed to do an interview and enlighten us about the ins and outs of his experiences, and what we can expect in his book.
Eric
Introduce yourself! Who are you, and why are you a writer?
Greetings! My name is Eric Muss-Barnes and I'm a published author of numerous novels and books including How You Can Get a Job at Walt Disney Studios Without a College Degree. Why am I a writer? That's a great question - a simple query all authors should ask themselves. I'm a writer because the written word just happens to be the instrument with which I feel the most adept at storytelling. To me, storytelling is the essence of being human. Regardless of age or gender or culture, everything we are as people consists of our memories. And what are our memories, but stories? Some storytellers compose in the medium of film or painting, some in music or dance, some in writing. Toning down the philosophical pretentiousness... writing is also really fun!
Your book is about how you can get a job at Disney Studios without a college degree. What inspired you to write a book like this?
Many things inspired this book. For one thing, I never heard of anyone writing anything like this before - an autobiographical account detailing every single career experience leading into Disney. The most predominant motive was my desire to "give back" to the universe for my good fortune. I grew up in a workingclass family in Ohio. Moving to California and being employed by Walt Disney wasn't remotely realistic where I came from. After working at a studio I've admired since childhood, I felt I owed some encouragement to other bluecollar kids out there. I wanted to show my fellow dreamers this can be done, even by those of us who are born into a neighborhood of autoworkers and barely graduate high school.
What type of work did you do for Disney?
Magical work, of course. That's what all we Disney Cast Members do. (wink) I wielded light and shadow and electricity in order to conjure enchanted images and sounds, that Guests could interact with, from anywhere in the world. My work would fly through spaceships high overhead, or rocket under the oceans quick as lightning. Mainly I was a computer geek, programming websites. But it sounds far less enchanting to describe it that way, doesn't it? I helped create sites for everything from PIXAR, to ABC Family, to Hollywood Records, to the D23 Disney Fanclub, to Disney Channel. If you visited any Disney movie sites in the last 7 years, I probably worked on a page you were viewing.
I'm a huge Disney fan. I grew up watching Walt Disney Presents, the Wonderful World of Color, the original Mickey Mouse Club....all the good stuff. Why do you think Disney has such a massive appeal?
I'm so happy you grew up on that stuff! Me too! I own many of those on DVD as well. So, Summer, you have an open invitation to stop over and watch Mickey Mouse Club anytime you're in Los Angeles. I think the appeal of Disney comes down to two very simple things: #1: Walt kept everything he did oriented toward families. People often mistakenly think Disney is about "kids" - but Disney has never been about children - it's always been about family. #2: Walt always expressed his storytelling by embracing groundbreaking technology; Creating the first full-length animated feature film; Inventing the wonder of audio-animatronics; Developing a television show to promote Disneyland, back when television was brand-new. He was always on the cutting-edge of state-of-the-art innovations. I believe those two factors are how Disney gained appeal - simple, family-oriented entertainment, always presented utilizing the awe and spectacle of the latest technologies.
What are some quick things you can point out that can help somebody achieve their dream of working at the studio?
Most people don't understand how massive The Walt Disney Company actually is - Disney owns ESPN, ABC, Marvel Comics, PIXAR, Lucasfilm, cruise ships, resorts, a radio station, Broadway acts, theme parks, record labels, and they make movies, television shows, video games, and more. In other words, no matter what field you are interested in - everything from computers, to fine cuisine, to sports, to botany, to marine biology, to engineering, to retail sales, to theatre, to motion pictures, to graphic design - you name it and there are people doing that type of work at Disney. Working at Disney means becoming the best-of-the-best. Rather than focus on "getting into Disney", focus on doing something you love with a passion, a field of expertise where you can shine and excel and become magnificent, then try to get into Disney appropriating that skillset.
I'm curious as to why you think Walt Disney was such an epic success. He certainly had his failures right in there with his triumphs. What set him apart from other entrepreneurs - and made him rise above it all?
There is a part in How You Can Get a Job at Walt Disney Studios Without a College Degree where I talk about the fact that Walt's wife, Lily, was skeptical when he wanted to create Disneyland. To me, that's a telling moment in understanding Walt. Here was a man proven to be a consummate pioneer of business and creativity. He built an empire by drawing cartoons, for goodness sake! Yet despite all of his success, even his own wife doubted his next project. All creative folks often face that kind of incertitude - even those who love us the most, frequently tell us we will fail. Thus, to me, Walt's success was due to his faith in himself. Yes, that's the biggest cliche in the book, but it's still the truth. You must have faith in yourself, even if it means mortgaging your house for an ambition your own wife doesn't even think will work.
Any parting advice for aspiring authors (and Disney enthusiasts!)?
For aspiring authors, you already know you need to believe in yourself. You've heard that 10,000 times. What you may not realize is the flipside of that advice - don't expect others to believe in you. Just like Lily Disney didn't have much faith in Disneyland, the people closest to you, may doubt you. Don't let their skepticism undermine your enthusiasm. For Disney fans, go watch my video tour of the Studio Lot in Burbank! It has nothing to do with my book. I just think you'll enjoy seeing a tour of the Studio given by two Cast Members! Here's the link.
Thank you so much for sharing your time with us today - best of luck to you in all your endeavors!
Thank you so much for the opportunity! How You Can Get a Job at Walt Disney Studios Without a College Degree isn't a "new adult" book, nor is it a novel, so I wasn't sure you'd be interested in talking with me. Nevertheless, I felt the upbeat message and fortitude of my story does fit with the spirit of Writing Belle. So, thanks again. I really appreciate you giving me the chance to appear on Writing Belle and tell people about my book.
Book Blurb:
Working for Walt Disney is a childhood dream, shared by millions of people, from all across the world. Since the founding of the studios in 1923, only a small fraction of individuals have ever experienced the bliss of making that dream coming true.
After working at the illustrious Studio for more than 6 years, author Eric Muss-Barnes shares his story of how that wish-upon-a-star came true for him, starting from humble beginnings in a bluecollar family in Ohio. 
Told with warmth and humor, you learn every job, every experience, every career move he made. Starting from his childhood paper route during Cleveland blizzards, he explains how he journeyed all the way to sitting with Minnie Mouse, as a Cast Member, at the Disney Studio lot, on a warm Summer day. 
How You Can Get a Job at Walt Disney Studios Without a College Degree is not merely about landing a job at Disney. Rather, it's a tale regaling every trial and tribulation which lead Eric to Los Angeles, told in the hopes of inspiring you to continue the pursuit of your own dreams, whatever they may be. 
You still have time to make your dream come true too. It's never too late. 
As Jiminy Cricket promised, if your heart is in your dream, no request is too extreme.
About Eric
Novelist and author Eric Muss-Barnes has released a "vocational autobiography" detailing the humorous ups-and-downs leading him from Ohio to Hollywood, in a book entitled 

How You Can Get a Job at Walt Disney Studios Without a College Degree

. In addition to his work at Walt Disney Studios, he has written, directed and produced an award-nominated, critically-acclaimed short-film entitled 

The Unseelie Court

, a movie screened in numerous film festivals across the country and is available on DVD. His writing has been published in numerous magazines around the world and within multiple anthologies, such as 

Tales From The Dark Tower

 and 

The Skateboarder's Journal - Lives on Board

, while his professional photography has been exhibited and sold in art galleries from Cleveland to Los Angeles. His second book, entitled 

Schooling Your Boss To Not Suck

, regales amusing tales of unfortunate managers at various jobs he's held over the years. 

Forever Loving You

 is the tongue-in-cheek title of a book of poetry and axioms he has written. His grandest work to date is an epic 294,000 word vampire duology entitled 

The Vampire Noctuaries

, beginning with 

The Gothic Rainbow

 and concluding with 

Annwn's Maelstrom Festival

.
Author Links
How You Can Get a Job at Disney.com |Twitter |Amazon |GoodReads |Blog |