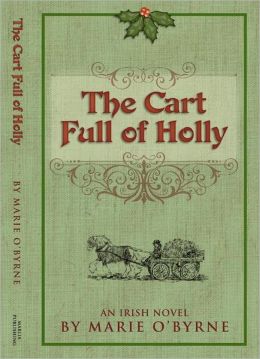 I live in the Central Valley of California, so it's really no surprise that I love to use the local setting as a backdrop for my books. Marie O'Byrne lives in Kingsburg, California - just a hop, skip and a jump away from my own hometown. I read about her books, The Cart Full of Holly, Lavender Fields, and Evening Rose, in The Fresno Bee. I thought it would be fun to feature a local author on Writing Belle, so I contacted Marie and set up an interview.
Marie's books are heavily steeped in Irish goodness. Born in Ireland herself, she carries a deep appreciation for all things Irish - and it makes her stories even richer. I took some time to catch up with Marie and ask her some questions about her writing, her background and her love for the Central Valley of California.
Hello, Marie! You live in Kingsburg, CA - but your original birthplace was overseas. Can you tell us a little about yourself - where you're from and how you came to live in Kingsburg?
Marie: I began writing about six years ago after the last of my four children left home for college. At that time my husband travelled extensively to China for his job and I thought it was the perfect time to write the novel that I had always dreamed about. It sure was a great way to deal with the empty nest syndrome!
One day as I read the Fresno Bee I saw an article on a class that was to be held in Fresno, it was titled, "How to write your first book". I looked upon that as a sign and I enrolled immediately. I am now at the beginning stage of writing my forth book.
How did you begin writing?
Marie: All my books are Irish Novels, set in Co. Wicklow, Ireland in the 1970 to 1980 time frame. They tell stories of hardship and pain growing up in rural Ireland at that time. I do however like happy endings, triumph over adversity and some form of justice! I have many fond memories from my childhood and I try to weave them into each novel, of course I change the names and places but some parts of all the stories have actual events in them that are true.
Describe your books for new readers. What kind of stories do you tell?
Marie: I love Ireland and everything Irish. I am one of eleven children, my mother and father worked incredibly hard to provide for us and they managed to give us all a great childhood. The wonderful memories I have of my time in Ireland inspires me.
Marie:
My favorite author is Maeve Binchy, and when I moved to America at the age of 23 years I found great comfort in her books. We lived in Vermont for eighteen years and I remember sitting up at night by the woodstove looking out at the snow falling, a cup of tea in one hand and one of her books in the other. Her books were set in Ireland and it made the distance from home seem so much shorter. She brought Ireland closer to me. I felt like Maeve was sitting by the fire next to me telling me her stories in the gentle, easy way that she alone can do. She is still my inspiration today.
We both live in the Central Valley of California, so I'm curious: What is your favorite spot to visit here?
Marie:
Living in the central valley here in California we are very blessed to be so close to Yosemite. I love to go there as much as I can and when my family and visitors from Ireland come over, that is the place they all want to see. It is a different world up there; a beautiful serene world.
Marie:
My best piece of advice for any aspiring writer is to stop talking about writing a book and just get started today! Keep at it. It will take time but it will all be worth it once it is complete.
What will you be working on in the future?
Marie: I am working on my fourth Irish Novel, "Paddy Joe and His Sisters" I am also writing some short stories for online publications.
About the Author
My name is Marie O' Byrne and I was born and reared in a small fishing village called Greystones, in County Wicklow, Ireland, the seventh child in a large family of thirteen. I had a fantastic childhood growing up with all my sister and brothers and all my memories are happy ones. We spent many nights sitting around the fire in our cottage with our parents and Aunts and Uncles telling stories.
I left Ireland in 1984 to move to Vermont, USA with my husband and two children. While in Vermont I had two more children and attended Vermont State College. We moved to California in 2003.
I have written three Irish Novels. The Cart Full of Holly, Lavender Fields and Evening Rose. They all take place in County Wicklow. All books are available as E-Books.
I love to receive feedback from my readers and there is a guestbook on my website.