When I was a kid, I absolutely loved to read. Obviously, nothing has changed. I have read many books over the course of my life, and I plan on continuing to do so for the rest of it. Reading is amazing. It's magical and transportive and soothing. It gives you the opportunity to travel the world, go into space, fall in love, save the universe and learn to remake yourself entirely. Reading is, in essence, the very definition of magic.
Today is National Young Readers Day, and in honor of this occasion, here is a list of my favorite books that I used to read as a kid before bedtime (and still occasionally do, just for fun!).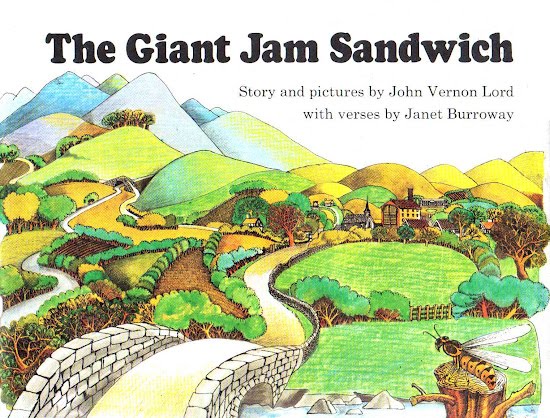 The Giant Jam Sandwich
Story and Pictures by John Vernon Lord
with Verses by Janet Burroway
One hot summer in Itching Down, four million wasps flew into town...!
Of all the books in my house, I read this one more than any other. It was my favorite. I was enamored with it as a child, and to this day, I think it's one of the cleverest picture books out there.
A Fly Went By
By Mike McClintock
Illustrated by Fritz Siebel
What happens when a fly goes by? A ridiculous series of events that's sure to entertain readers of all ages.
This picture book was one of my dad's favorite books as a kid, and he passed that favoritism down to me. He used to read it to me when I was a little girl. I loved it. You'll love it, too. Remember, you're never too old to read a picture book.
A Fish Out of Water
By Helen Palmer
Illustrated by P.D. Eastman
"When you feed a fish, never feed him a lot. So much and no more! Never more than a spot, or something may happen! You never know what."
This fishy tale of a goldfish who gets a wee bit overfed is also a classic. The way it's written is beautifully entertaining.
Green Eggs and Ham
By Dr. Seuss
"Do you like green eggs and ham?"
"I do not like them, Sam-I-Am. I do not like green eggs and ham."
What's more classic than a Dr. Seuss story? To this day, it's hard to find anything more charming that stories like Green Eggs and Ham, Horton Hears a Who and The Lorax.
Big Dog, Little Dog
By P.D. Eastman
What happens when a little dog and a big dog (Ted and Fred, respectively) take a trip together? Big and little trouble, that's what!
I wasn't the only one who kept this book in my room as a child. My brother did, too. It's simply endearing, and yet another child's masterpiece by P.D. Eastman.
Over In The Meadow: An Old Counting Rhyme
By David A. Carter
Over in the meadow,
Where the stream runs blue,
Lived an old mother fish,
And her little fishes, two,
Swim! Said the Mother.
We Swim! Said the two.
So they swam and they leaped where the stream runs blue.
This rhyming book helped me learn to count as a little one, but I remembered every line because my mother would sing it to me with music. Definitely a keeper.
When it comes down to it, I have WAY TOO MANY favorite books to include, but these are just a few that really stand out from the rest. What are your favorite childhood reads?
Encourage a child to read today. It can their life. It changed mine!
Today's Post Was Supported By: