Another year, another plethora of books.
I mean, summertime is my favorite time of the year, for multiple reasons. I love the heat, I love to lounge beside cool swimming pools while wearing a dramatic sunhat, and I love to READ. There is nothing better than reading on a hot summer day, and I usually end up reading more books during the summer than during the rest of the entire year.
This year, I have compiled a list of what is on my immediate bookshelf. Some of the titles are old, some of them are new. Some of them I have read, and some of them I haven't quite gotten to yet. But here are they are, in all of their papery, wondrous storytelling glory!
The Girl on the Train by Paula Hawkins
This one I HAVE read, and it's one of my favorites this year. Here's my official review:
Confusing and thrilling. This book reminded me of the pulse-pounding mystery ride that was Gone Girl, with all of the applicable twists and turns that you would come to expect from a novel centered around a murder.
I liked it enough that it really only took me a few hours to read it. I did peg the surprise twist at the end - I've read so many mystery novels in my time that I guess I'm just a good guesser.
The interesting thing here is that all of the characters (like in Gone Girl) were morally despicable individuals. The most likable of the lot was of course Rachel, who became more likable as the book progressed and the truth was revealed. (I suspected that Rachel was much more than just a straight-out alcoholic, and thank goodness I was right!)
Megan herself was completely and totally unlikable, as was Anna. But the fact that they were horrible human beings did not make the story any less interesting - it goes to show, I think, that horrible behavior can cause equally abhorrent ripples in even the most boring, suburbanite life.
I'm curious about the movie - I like reading psychological thrillers, and watching them jump from book to silver screen is sometimes very interesting.
Miss Peregrine's Home for Peculiar Children by Ransom Riggs
Let me just say that I have fallen completely head over heels in love with Ransom Riggs' debut story. One part fantasy, two parts time-travel, I have found this beautiful adventure story as enchanting as Harry Potter. I love the characters, I adore the story arch and I'm a huge fan of the whimsicality of it all. But most of all, I love the time-travel element. It's so much fun, and frankly, the most brilliant part of the series so far has been the usage of real photographs from history to supplement the plot. Completely awesome.
It's worth noting, as well, that the sequel, Hollow City, is equally as well-written as the original. I'm excited for Library of Lost Souls.
Monument 14 by Emmy Laybourne
A bunch of kids get trapped inside what is essentially a massive Costco while an apocalypse of sorts strikes Colorado. Big problems, right? I read this book fairly quickly. I liked the concept, and the idea of involving small children in the plot was definitely an interesting element. I did, however, have a huge issue with the main character's obsession with putting the underage girls around him on sexual pedestals. It was gross objectification and honestly, I thought some of it was totally unnecessary and completely out of place, considering where the story was headed. That, however, is simply my opinion. In all, a pretty entertaining read, if you can get past the leering, sex-obsessed teenage boys.
Partials by Dan Wells
A post-apocalyptic science fiction thrill ride with just a hint of Hunger Games and Blade Runner? At least that's what the reviews are saying. I haven't read this one yet, but it's been sitting on my shelf for quite some time, effectively mocking me and begging me to crack open its pages. I am slowly working my way toward it - I think it looks really great.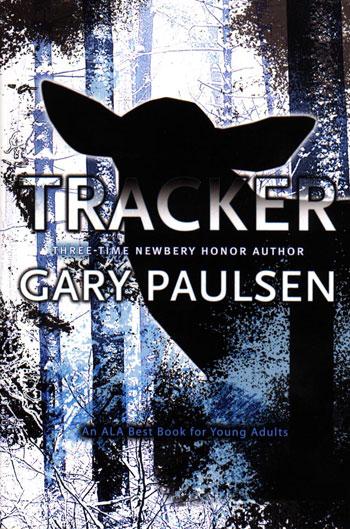 Tracker, The Haymeadow, Puppies, Dogs and Haynorthers, and Woodsong all by Gary Paulsen
In case you haven't come across Gary Paulsen before, he's a bit like the Jack London of children's literature (and young adults). His books center on survival in the great outdoors, usually showcasing some form of Man versus Unfeeling Force (the unfeeling force being Fickle Miss Mother Nature). What is wonderful about Gary's stories is that there is more often than not a dog who plays a supporting role, and I'm ALL about that. (Hatchet is one of Gary Paulsen's most famous works, as well)
How I Live Now by Meg Rossoff
15 year-old Daisy is sent to live in the English countryside with her cousins, and wouldn't ya know it: the apocalypse strikes! Goodbye, pop-tarts. Hello, World War Three. Considered a classic in YA fiction, Meg's book won the Printz Award for excellence in young adult literature. More recently, the book was made into a movie starring Sairose Ronan, and it was actually quite good.
Dorothy Must Die by Danielle Page
You know the story about the Wizard of Oz, right? Well, there's more to it than just a pair of ruby-red slippers and a yellow-brick road. There's a war, there's a girl, and there's a mission. This fresh new twist on the world of Oz currently is comprised of 3 installments.
Red Queen by Victoria Aveyard
The world is divided: red or silver. Powers, princesses, betrayals and lies. This novel from Victoria Aveyard has turned many anti-fantasy readers into fantasy fans, so I've heard. I came across it at a second-hand bookstore and picked it up. I can't wait to read it!
Shadow and Bone by Leigh Bardugo
Apparently I am going through a fantasy phase, because a majority of what I'm currently reading (or plan on reading) includes either time-travel, magic powers or some kind of princess-turned-warrior-badass. The story centers on a young soldier named Alina, her discovery of dormant powers, her role in the war of her fantastical kingdom of Ravka and her love triangle with two very good-looking gentlemen who are naturally quite in love with her.
Into the Forest by Jean Hegland
Keeping with my theme **cough obsession cough* of apocalyptic fiction, this book centers on two sisters who must survive in their North Carolina cabin in the midst of a crumbling society. Penned during the 90s, the fall of technology is imagined just a bit differently than a modern-day novel. (This is also being made into a movie later this year, starring Ellen Page, I believe)
What are you reading this summer? Any recommendations? I am particularly interested in anything along the lines of Gone Girl or Girl on the Train. Psychological thrillers are totally my thing right now!